Enjoy Festive Vibes at these Cities of Himachal Pradesh
Himachal Pradesh is one of the most beautiful states in the country, which attracts several tourists each year from all over the world. If you want to see the beauty of Himachal firsthand, then the best way is through some road trips to the major cities here which also have several tourist spots nearby. For a unique experience, you may consider taking these trips during the festive season to enjoy the cultural aspect of your trip and to see these places immersed in the celebrations. Here are the best road trips to major cities in Himachal Pradesh where you can enjoy the Indian festivals in all their glory and engage in the various things to do in Himachal Pradesh during the festive time.
7 Best Place to Visit in Himachal Pradesh during Festival Season
1. Kullu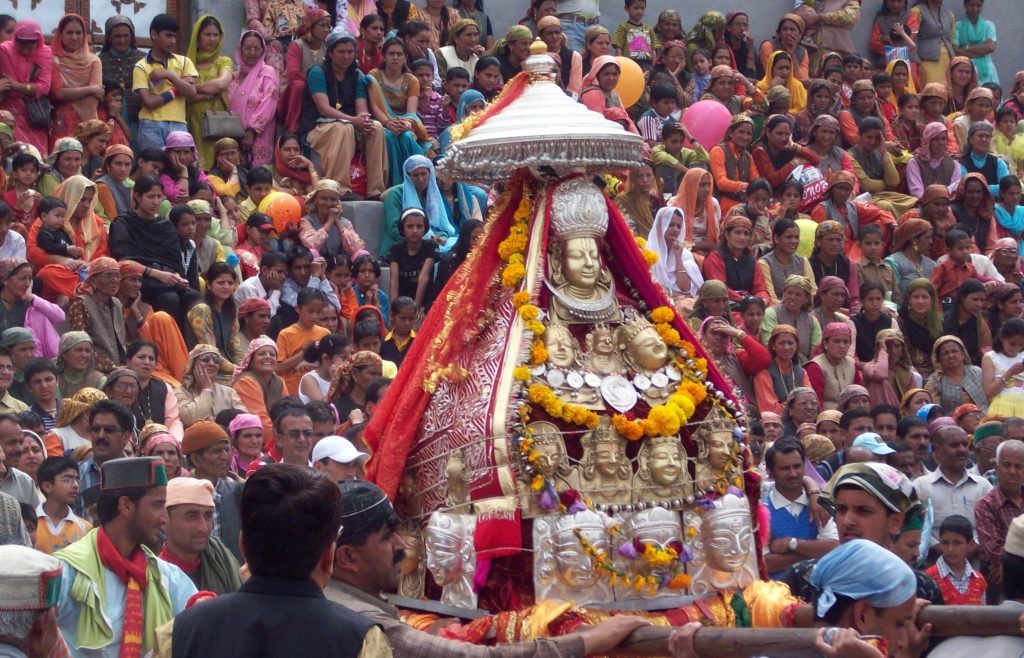 Kullu is one of the favorite destinations for people during the winter season, for its beautiful scenic view and chilly weather. Another reason Kullu is a much-preferred destination during the festive season is the festival of Kullu Dussehra, which showcases a lot of the culture of Himachal Pradesh. Dussehra in Kullu commences on the tenth day of Navratri. It then continues for a week and is attended by several visitors from around the world. The pilgrims and locals in Kullu start this festival with a procession of Lord Raghunath, who is accompanied by other deities. The deities are carried on a Ratha across the town. The week-long festival is celebrated with dancing, singing songs, and feasting. The last day is marked by sacrifices of a rooster, a fish, a crab, a buffalo, and a lamb. The locals even lit a huge bonfire. This is one of the most famous festivals in Himachal Pradesh; therefore, celebrated with zeal and enthusiasm.
Places to visit in Kullu: Bijli Mahadev Mandir, Raghunath Temple, The Great Himalayan National Park, Rupi Palace
2. Dharamshala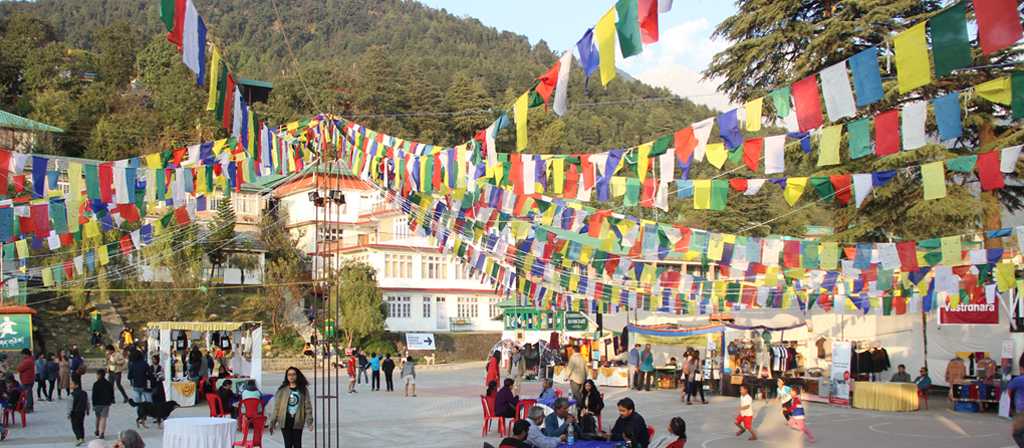 Over the years, Dharamshala has grabbed a lot of attention from the travelholics because of the mesmerizing weather and view of the natural beauty it offers. It is one of the tourist attractions in Himachal Pradesh that is well-appreciated by tourists. The hill station gets even more splendid during the festive season, especially Losar, Tibetan New year. This is the time when lamas celebrate an agrarian event. In this festival, butter lamps are lit by the lamas to signify the enlightenment of Buddha. The entire valley cheers with the folk music and dance. Locals make a special cake called Kapse, and an alcoholic beverage called Chang during this festival. It is also one of the great shopping places in Himachal Pradesh.
Places to visit in Dharamshala: Namgyal Monastery, The Tibet Museum, Tsuglagkhang Complex Dalai Lama Temple
3. Lahaul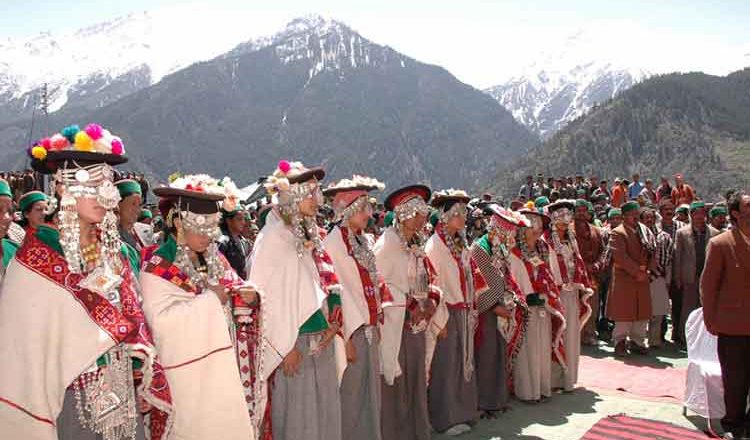 Majorly celebrated in the Lahaul district, Halda is one of the most important festivals in the state. Famous in Himachal Pradesh for its fervor, this festival has a close resemblance to Diwali as locals lit lamps in the 2-day grand carnival.  The festival is dedicated to the Goddess of Wealth, Shiskar Apa. Families and relatives gather and light massive bonfires. You can witness Lamaistic traditions being followed in this festival.
Places to visit in Lahaul: Pin Valley National Park, Tabo, Kaza, etc.
4. Kinnaur
Kinnaur celebrates Sazo festival with full vigor. The best time to visit Himachal Pradesh and attend this festival is January. This is one of the most beautiful festivals in the state as locals believe that deities move to heaven for some time during this festival. The locals bathe in the hot springs during this festival to cleanse their bodies as well as the soul. They perform several folk songs and dances during the Sazo festival.
Places to visit in Sazo: Sangla, Nako, Chitkul, etc.
5. Dungri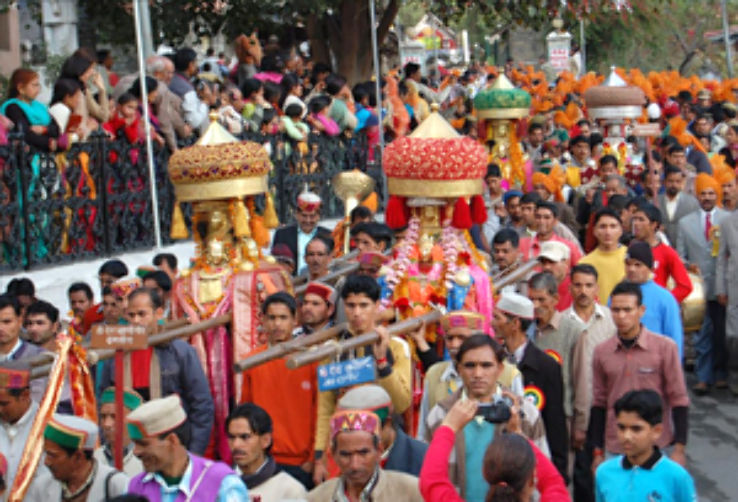 Dungri is one of the major cities in Himachal Pradesh that celebrates the birthday of Hidimba Devi, which is called Hidimba Devi's Fair or Dungri Fair. The fair is organized on Basant Panchami. People wear traditional dresses on this day and perform on pulsating folk music. Rituals are performed by priests in the Hidimba temple and people bow down to seek blessings from the goddess.
Places to visit in Dungri: Jagatipatt Temple, Gadhan Thekchhokling Gompa, etc,
6. Chamba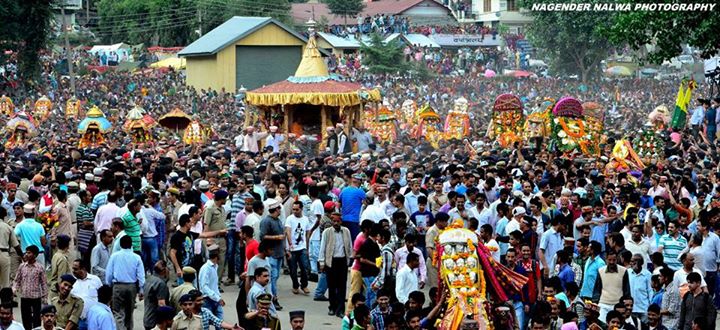 While you visit Himachal Pradesh during festivals, you can fetch out some time during mid-August to attend Pathroru. This is a festival of flowers which continues for a whole month. This festival is celebrated in several corners of Himachal Pradesh, and in some places, it is called Prithvi Pooja, while in other places it is called Badranjo. 
Places to visit in Chamba: Bhuri Singh Museum, Sui Mata Temple, Sri Chamunda Devi Temple
7. Pajol
If you want to take a sneak peek at the Diwali celebrations in Himachal Pradesh, you should visit Pajol. It is a small village in the state where Diwali is celebrated a day ago. Goats are sacrificed on this day and sweets are distributed. Small vessels are painted with clay and decorated with drawings in red color by the women. The locals worship Goddess Lakshmi on this day.
Places to visit in Pajol: Kotkhai Palace
These places will surely make you fall in love with Himachal Pradesh and the astonishingly beautiful sites will double the joy of the festivals. This unique combination of unmatched natural beauty and festive splendor will definitely make for some of the most wonderful road trips. To move around easily between these places, taking a car on rent by Revv can provide you with absolute freedom. Just install the Revv app or visit the Revv website to get started with finding your dream ride for your trip.