8 Wonderful Summer Vacation Destinations Around Nagpur
Oh summer! If you thought that was a pleasant exclamation, then think again! Scorching summer will soon be upon us and the best way to beat the heat is to take a lovely vacation somewhere away from Nagpur if that's where you live or work. Luckily, there are plenty of summer vacation destinations near Nagpur that you can readily access. Instead of beating about the bush, why don't you plan a summer trip with your family members or friends in tow?
There are tons of places near Nagpur for summer holidays and even some of the most gorgeous hill stations near Nagpur for summer vacations that you can take a closer look at. Here are some suggestions that you can definitely consider:
Summer Vacation Destination Around Nagpur (List):
1. Pachmarhi
If you haven't heard about it yet, Pachmarhi is the best kept secret of Madhya Pradesh. This hill station is a hot favorite for tourists seeking some much-needed peace and quiet amidst delightful weather all throughout the year. Satpura Ki Rani is what Pachmarhi is also known as and you will soon know why, once you glance upon its natural pools, caves, waterfalls and the majestic Satpura Tiger Reserve which undoubtedly draws the highest footfalls. Undoubtedly, Pachmarhi is one of the top things to see in Nagpur this summer.
Must Read: Summer Vacation Destination Around Delhi
2. Chikhaldara
Chikhaldara is one of the ideal summer vacation destinations in Nagpur if you love the hills. This is another lovely hill station to relax in and is just 4 ½ hours away from Nagpur. Love going off the beaten track while traveling? This is the right destination for you! Chikhaldara will envelop you with its amazing greenery, misty mountains and sheer natural beauty. If only there were ways to describe its beauty in words! This is one of those slightly long yet immensely refreshing summer weekend getaways from Nagpur.
3. Bhandardara
Bhandardara is yet another pristine hill station nestled charmingly on the Western Ghats and will give you amazing glimpses of the Sahyadri range. The hill station lies approximately 70 kilometres away from Nasik which makes it pretty accessible from Nagpur as well. This rural destination is a picture of calm and tranquility, aided by the lovely Pravara River flowing by it and the gorgeous forts and waterfalls. While admiring the natural beauty all around, don't forget to visit Panchor Point which will give you panoramic valley views worth blowing up and framing at home.
4. Jawhar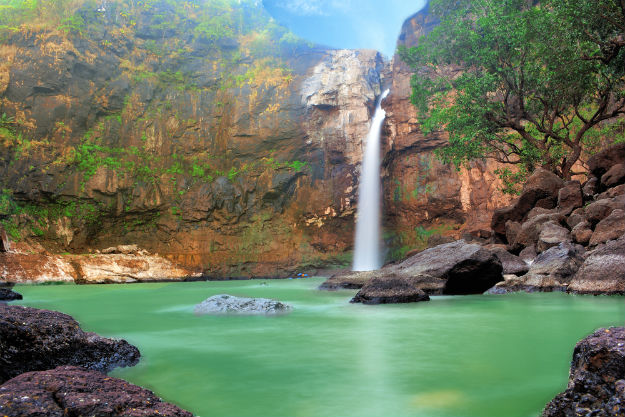 Jawhar can almost be called a virgin destination in the Western Ghats, making it all the more suitable for those who like their seclusion and privacy while vacationing. This erstwhile princely State will awe you with its imposing Jai Vilas Palace or Raj Bari atop the hill and of course, the Sunset Point which gives you great views of the surrounding landscape. The Kal Mandavi and Dabosha waterfalls are also must-visits, making this one of the best places to visit near Nagpur in summer.
Must Read: Places To Visit In Bangalore- Top Destinations That Will Delight You Immensely
5. Matheran
If you are a Nagpur resident and haven't planned a trip to Matheran yet, then you don't know what you're missing! This spectacular hill town is located in Maharashtra's Raigad district and has managed to remain untouched over all these years. Matheran is an overnight train ride away from Nagpur and is popular for its herbs and medicinal plants along with its two gorgeous lakes. There are points where you can enjoy some of the most breath-taking views that you have hitherto dreamed about! Trekkers and nature enthusiasts adore Matheran and with good reason!
6. Lonar
The Lonar Crater Lake undoubtedly makes this place one of the most popular summer vacation destinations in Nagpur. Located in Maharashtra's Buldhana district, Lonar draws tourists in large numbers and has its enigmatic lake to boast of, formed uniquely after a hypervelocity meteor hit the surface of the earth. This is a one of its kind formation worldwide (hence all the attention) and is surrounded by beautiful trees and greenery. There are several ancient temples nearby as well.
7. Bhopal
How about a life lesson in tehzeeb or etiquette as they call it? How about poetry, scintillating Mughal delicacies and the warmth of friendly locals and stories from time immemorial? If this sounds like an exciting combination, Bhopal is just the place for your summer trip! Bhopal is the capital of Madhya Pradesh and is a gateway to several other popular destinations. Bhopal is known for a multitude of attractions as well, including Birla Mandir, Upper Lake, Van Vihar, Taj-ul-Masjid and Bhimbetka Caves among others. This city will give you the experience of a lifetime without a doubt!
Must Read: Best Road Trips From Pune
8. Jabalpur
Continuing your Madhya Pradesh odyssey, venture into Jabalpur, one of the State's fastest developing cities. Jabalpur is a great place for a summer vacation from Nagpur. Jabalpur is known for its scenic beauty and several landmarks that have major historical importance. The Marble City will sure give you a lot to ponder over including stunning temples and waterfalls. Some of the key attractions include the Hanumantal Bada Jain Mandir, Madan Mahal, Shiva Statue, Dhuandhar Falls and Rani Durgawati Museum to name a few.
If you live in Nagpur, you're lucky enough to have several fabulous destinations within touching distance for refreshing summer trips. Choose from any of the above mentioned destinations and have a great time this summer. Most importantly, cool off your heels amidst the soothing environs of each of these locations (depending on which one you choose) and just explore/relax at leisure. Everyone deserves a break.