13 Top Summer Vacation Destinations Near Tirupati
The beautiful city of Tirupati is nestled in a naturally blessed surrounding and therefore apart from being a prominent pilgrimage, it is also one of the most beautiful cities in South India. There are many places that can be explored for summer vacation, while maintaining Tirupati as the base. In order to do so, a little research on summer weekend getaways from Tirupati is required, but we have already prepared a comprehensive list for you here:
13 Best Summer Vacation Destination Near Tirupati
1. Horsley Hills
The pleasant weather in Horsley hills will make your travel experience unforgettable. The green hills, dense forests and pristine Gangotri Lake look absolutely breathtaking. This is one of the hill stations near Tirupati for summer vacation that you can choose without a second thought.
Distance from Tirupati: 130 km
2. Nagari Hills
This beautiful hill station is located beside Kushasthali River, and is quite near to Tirupati. You can plan a trip to Nagari hills on any of your weekends. The lush greenery and cascading waterfalls make it a spectacular beauty. It's a favorite place of many of the trekkers and hikers.
Distance from Tirupati: 65 km
3. Yelagiri
Blessed with nature's beauty and verdant landscape, Yelagiri will present you many opportunities to trek along the perfect trails. You can also opt for boating in Punganur Lake. Perched at an altitude of 3,460 feet above sea, this is the place you should choose to beat the heat in summer.
Distance from Tirupati: 200 km
4. Nallamala Hills
This is one of the best places to visit near Tirupati in summer. The pleasant weather will keep you comfortable and the number of streams, waterfalls and scenic peaks will sooth your soul. There are also ancient temples that you can visit to.
Distance from Tirupati: 249 km
5. Yercaud

You can spend a splendid weekend in this hill station, boating in the Yercaud Lake, visiting the aromatic coffee plantations and blossoming gardens. Yercaud is considered by many tourists to be one of the best places near Tirupati for summer holidays.
Distance from Tirupati: 350 km
6. Nandi Hills
The hazy weather, breathtaking view of sunrise and sunset, exotic flora, make Nandi hills a much sought after weekend getaway from Tirupati. Adventure lovers will love paragliding and hiking here. You can also choose to visit the famed Grover vineyard, spread across almost 410 acres at the foothill of Nandi Hills.
Distance from Tirupati: 240 km
7. Pondicherry
Known for its French colony, Pondicherry is the place where you can enjoy the evening breeze by the sea. Drive all the way to this beautiful town on any weekend and visit the major attractions here like Basilica of the Sacred Heart of Jesus Church, Botanical Garden, Promenade Beach, and Paradise Beach.
Distance from Tirupati: 235 km
8. Ananthagiri Hills
Ananthagiri Hills is one of the best places to go over a weekend during the scorching summers. Covered in lush greenery, this place gives you all the opportunities to relax and unwind. You can visit Ananthagiri Temple here.
Distance from Tirupati: 573 km
There are many hill stations near Tirupati that you can head to over the weekends, but if you are running short of time, you can try visiting the summer vacation destinations in Tirupati. Check out some of the options here:
9. Ubbalamadugu Falls/Tada Falls
Find beautiful Tada falls in a dense forest known as Siddulaiah Kona. Adventure enthusiasts are often seen here trekking and climbing along the trails and mountains. The trails are a little difficult; therefore, elderly people and children are suggested not to try trekking here.
Distance from Tirupati: 81.6 km
10. Kailasakona Waterfalls
If you like waterfalls, you must visit this one as it is located very close to Tirupati with excellent connectivity through roads, and is counted one among the summer vacation destinations in Tirupati. From a height of 30 meters, the waterfall drops down into a small pond underneath the rock. The clear water here has rich mineral values & medicinal powers; thus, has been claimed to heal minor ailments.
Distance from Tirupati: 46 km
11. Kalyani Dam
One of the most picturesque things to see in Tirupati this summer is Kalyani Dam. Located in the Rangampet forest, this dam offers unmatched beauty. This is also the main source of water supply for Tirupati and Tirumalai.
Distance from Tirupati: 20 km
12. Nagalapuram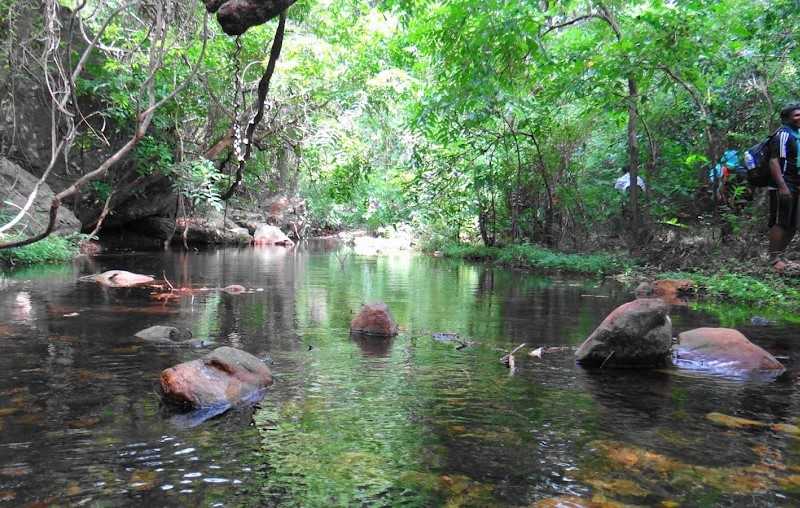 You can have a wonderful trekking experience in Nagalapuram. The trails here are easy, thus, even if you are with family, you can give it a shot. When you are here, you must visit Sri Vedanarayana temple to witness the Vijayanagara architecture. The Nagalapuram waterfalls is a must visit spot here.
Distance from Tirupati: 78 km
13. Kapila Theertham
This is a waterfall located inside Kapileswara Swamy Temple. The Kapila Theertham is the only Shiva temple in the neighborhood of Tirupati with a Shiva lingam is made of brass. The ancient temple is frequented by many pilgrims all through the year. The water from a mountain stream falls into a pond in the temple premises from a drop of about 100 feet.
Distance from Tirupati: 4 km
The hills and forests near Tirupati make you forget about the summer heat and give you a safe sanctuary in this magical land. If you are looking to have a weekend getaway near Tirupati to refresh your mind and body, you have a lot of options to visit. Whether you are travelling alone or with friends and family, one of the best ways to travel to these places is through car rental in Tirupati by Revv. This gives you the flexibility of choosing the car based on your needs whether a large SUV or a small hatchback. Just choose a car accordingly and get ready to enter the kingdom of nature.
Must Read: Places to Visit in Tirupati