Choicest Locations for Some Fantastic Road Trips from Coimbatore
Coimbatore is a scenic city and there are a number of attractions which this city has in store for visitors. The bust of Shiva has become the face of the city and people from all over the world come here to see this marvel. There are many other attractions here as well, but sometimes, it is a good idea to take a break and also explore one's surroundings to the fullest. While taking a train or a flight is always an option, one of the best ways to spend time with friends and family is to go on a road trip and there are a number of routes that one can take out of Coimbatore.
Try these road trips from Coimbatore for a great time:
1. Ooty
It happens to be one of the most popular places for vacationing in South India but a road trip is going to make the trip all the more exciting. For those who love the mountains and driving through the winding roads, the route will open up new vistas that can never be experienced on a train ride or an aeroplane. The hill city was once the summer headquarters of the East India Company and today there are still many colonial style buildings where one can relax. Walking through the lush green hills and enjoying the coffee that the region produces is one of the best ways of enjoying this hill city.
Distance From Coimbatore: 86.0 km via NH181
Best Time: Throughout the year
2. Coonoor
Coonoor happens to be the second largest hill station in the Nilgiri Hills of the Western Ghat and is situated at an altitude of 1930 metres. The best place to visit here are Sims Park and Dolphin Nose and the view of Ketti Valley is simply mesmerizing. It is best to take a walk through the lush green plantations and there are a number of trekking trails that starts from here as well. Coonoor happens to be a bird watcher's paradise and a number of exotic plants can also be seen here.
Distance From Coimbatore: 68.2 km via NH181
Best Time: October to March
3. Malampuzha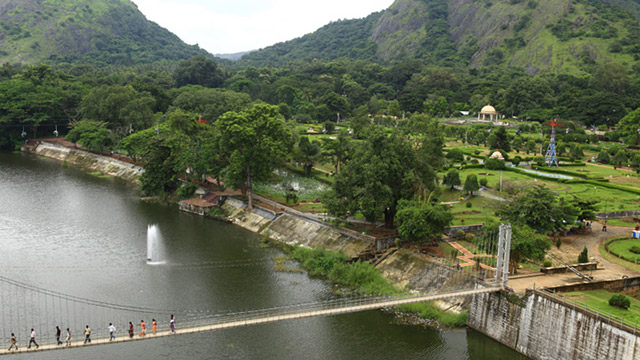 Located in Kerala this is an ideal place to visit if you love greenery and extensive water bodies. The scenic beauty of the place is unparalleled and the Thread Garden and Malampuzha Udan Khatola are some of the most exciting places to visit here. The dams across the river also provide an interesting tour. Diverse wildlife can also be seen here and birds are found aplenty, especially during the winter months when migratory birds come here from the Arctic.
Distance From Coimbatore: 54.1 km via NH544
Best Time to Travel: August to April
4. Bellikkal
If the principal idea on your mind is to simply relax and enjoy nature's beauty then this is a road trip that you must make from Coimbatore. The place happens to have all the amenities that you want for a getaway and yet this city is not really overwhelmed with rampant commercialization. The best time to visit is right after the monsoons when the greenery of the mountains is at its fullest.
Distance From Coimbatore: 222 km
Best Time to Travel: Throughout the year
5. Munnar
Munnar is a little hill station and the tea gardens of the region are the main attraction. One can get the most exotic view of the Western Ghats in the state of Kerala and apart from that, the region is also known for its spices. A road trip will take you through the tea and coffee plantations and you can stop by in between and also go for tea tasting. This region happens to be one of the largest commercial tea makers in the world. While you are here, do not forget to visit the Echo Point, the Attukad Waterfalls and the Munnar photo point.
Distance From Coimbatore: 156.4 km
Best Time to Travel: September to May
6. Palakkad
A road trip from Coimbatore to Palakkad in Kerala is filled with picturesque landscapes. Almost everyone comes here to enjoy the beauty of the clear backwaters and the Pala trees from where this town gets its name, provides a beautiful backdrop. The town is located near the wild low passes of the Western Ghats and is known for its paddy fields. It is supposed to be a very relaxing road trip that you can take from Coimbatore. It is one of the most popular tourist places near Coimbatore as well.
Distance From Coimbatore: 52.9 km via NH544
Best Time to Travel: July to March
7. Madumalai
Madumalai National Park is a great getaway for those who love adventure and wildlife and the wildlife sanctuary itself will provide you a view of many endangered animals and birds. The national park shares its borders with both Kerala and Karnataka and a road trip to here can be easily done through the Ooty- Mysore highway, which passes right through the forest. If you have enough time on your hands, you can also visit the adjoining Bandipur National Park by taking a curve around the Moyar River. This Park has been declared as a World Heritage site by UNESCO and make sure that you have enough time on your hands when you visit this 6,000 square kilometer marvel.
Distance From Coimbatore: 130.3 km via NH181 and Mysuru – Ooty Road
Best Time: December to June
8. Bangalore
One has to travel to Bangalore not only for pleasure but also for work. However, a road trip from Coimbatore to Bangalore or a Bangalore to Coimbatore road trip will be extra special because of the sights and sounds one gets to see along the road. It is amazing how beautiful the roadside landscapes are and there are a number of eateries along the way to satiate your food cravings. This is the perfect excuse to enjoy a long drive with your partner. Covering the Bangalore to Coimbatore road in self drive car rental will be one of the most thrilling experiences you have had in a long time.
Distance from Coimbatore: 363.5 km via NH 544 and 44
Best time to Travel: Round the year
These road trips from Coimbatore by car will leave you in awe of the beautiful sights around the city and this will be your best way to travel from now on.
Must Read: Road Trips from Chennai