Top 10 places to visit in Nagpur for First Time Travelers
There are tons of well-known places to visit in Nagpur that you must already know about. However, there are some visiting places from Nagpur and some off-beat places to visit in Nagpur and around that will captivate you the most during your trip. Nagpur is one of the most famous Indian cities, not just for its yummy oranges but also for its administrative prowess, making it virtually Maharashtra's second capital. Nagpur is also popular for its delectable array of Maharashtrian dishes and cuisines which are big hits with tourists. Here's taking a closer look at some of the places to visit in Nagpur with family or friends alike.
Top 10 places to visit in Nagpur 
1. Seminary Hill
This is one of the best and nearest places to visit in Nagpur and is known for its lovely hill views all around. The panoramic city views will amaze you and the hills get their name from the St. Charles Seminary here. The hills are further accentuated by the lovely Japanese Garden and Satpura Botanical Gardens alike which are nestled here. This is one spot where you should certainly take your camera along for there are amazing opportunities to click lifetime pictures that are worth framing!
Location- Seminary Hills, Nagpur
Must Read: Best Picnic Spots Near Nagpur
2. Civil Lines
One of the most important places to visit in Nagpur, Civil Lines is one of the hippest areas in the city along with having some of the cleanest and widest roads. It is a sheer treat to drive through this area which also has various trees and abundant natural greenery alongside. This location deserves a visit in the evening when you can stop by at one of the many restaurants, pubs or eateries here. This is one of the top places that you must visit in Nagpur for entertainment and dining alike.
Location- Civil Lines, Nagpur
3. Ramtek Temple
This temple is hugely popular in Nagpur and draws tourists in large numbers. Local lore says that this is where Lord Rama resided while being exiled from Ayodhya. The temple is visited by devotees from across India owing to its Ramayana association. The month of November is when the place really comes alive with the Kalidasa Festival which goes on for a fortnight here.
Location- Ramtek Village
Must Read: Summer Vacation Destinations Near Surat
4. Ramdham
Ramdham is the country's biggest cultural tourism park and is inspired by theme parks of yore. The story of Ramayana is beautifully depicted here along with some contemporary touches. The biggest OM across the globe is accommodated within this park and it has found mention in the Limca Book of Records too. Some of the other wonders include the Shivling that is crafted from ice and also the replicas of famous Indian temples like Vaishnodevi Temple and the Ashtavinayak Temple. There are souvenirs available for tourists as well, including models of Ganpati, Rama and other Gods.
Location- Nagpur Jabalpur Road
5. Dhamma Chakra Stupa
This Buddhist monument is one of the top places to visit in Nagpur and around and will wow you with its architectural excellence, having been crafted fully from granite and Dholpur Sandstone marble. The monument goes up to 120 feet in terms of its height and Ashoka Vijaya Dashmi is when the place is thronged by Buddhism followers.
Location- Dhamma Chakra Stupa, Nagpur
Must Read: 8 Wonderful Summer Vacation Destinations Around Nagpur
6. Futala Lake
Nagpur's famous Futala Lake is one of the most iconic spots for taking pictures of the sunset or simply relaxing with friends and family members. The lake covers a whopping 60 acres and is Nagpur's second biggest lake, constructed by Nagpur's Bhonsle Kings who also supervised the construction of the city itself. There are vibrant and colorful fountains installed here which are a major draw for visitors in the evenings. The lighting along the lake also deserves special mention.
Location- Juna Futala, Chowpatty Road
7. Ambazari Lake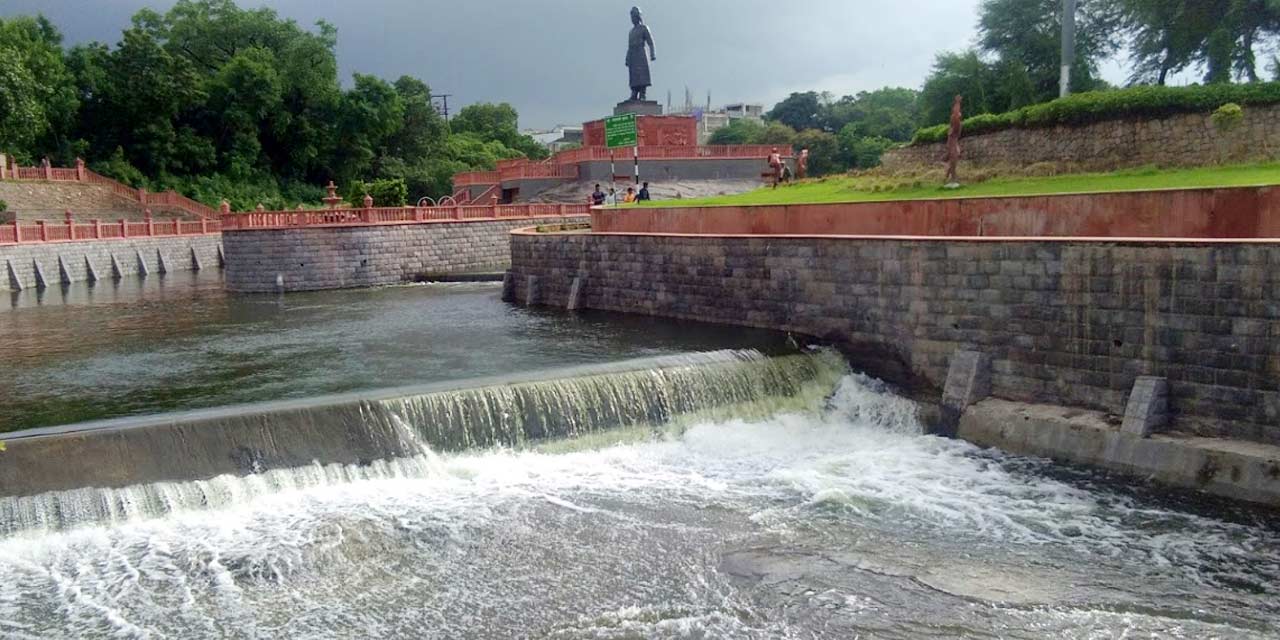 This is the biggest lake in Nagpur and the name translates to Mango in Marathi since it is surrounded by this famously delectable fruit and lovely gardens. There are boating excursions that you can choose here while children usually have a ball at the mini playground near the lake.
Location- Ambazari Lake, Nagpur
Must Read: Unexplored Places to Visit Near Pune For Your Happy Weekend
8. Markanda
This city is ancient and has found mention in both the Ramayana and Mahabharata and only 18 temples currently exist here out of the 24 that existed earlier. There are several amazing sculptures and paintings lining this town which is a history lover's paradise in a manner of speaking.
Location- Chamorshi-Nagpur Road, Gadchiroli District
9. Sitabuldi Fort
This fort has immense historical significance, having been the site of several famous battles including the one between the British army and Appasaheb who eventually lost. After independence, the fort has become the base for the 188th infantry battalion of the Indian Army and opens to the public on Maharashtra Day, Independence Day and Republic Day alike.
Location- Madha Colony, Sitabuldi, Nagpur
Must Read: Picnic Spots Near Kolkata: Escape From The City Rush in 2020 For a Day's Retreat
10. Nagzira Wildlife Sanctuary
One of the nearest places to visit in Nagpur, the Nagzira Wildlife Sanctuary is known for its amazing collection of flora and fauna including majestic tigers that are protected impeccably here. The project for protection and conservation of tigers commenced here in the year 2012 and this led to the sanctuary being merged with another reserve. This wildlife hotspot has 35+ kinds of mammals and 166+ bird species.
Location- Bhandara, Maharashtra
Must Read: Fun Road Trips From Mumbai That You Will Absolutely Cherish
These are thus the top 10 places to visit in Nagpur that should definitely be on your list. Nagpur is not just a major historical and cultural center; it offers a lot more to travelers, right from spirituality and succor to peace, tranquility, architectural delights, lip-smacking cuisine and ample warmth above all else.