Summer Vacation Destinations near Jaipur – Short Visit Places By Road
Jaipur, being a tourist destination itself, is visited by many vacationers all through the year. The striking monuments, ancient forts and palaces, museums, colourful shopping areas; there is so much to see in the Pink City of India. However, if the explorer in you is still not satisfied, you can take a look at the places near Jaipur for summer holidays. Here we have a list of places that you can travel to.
Famous places to visit in jaipur in summer vacation
1. Tonk
A small town located near Jaipur, also known as the 'Lucknow of Rajasthan', is filled with old mosques and mansions. The unique attraction in this town is 'Sunheri Kothi' (Mansion of Gold) with intricate artwork worth visiting.
Distance:- Jaipur To Tonk – 90 km
Must Read: Best Picnic Spots near Bangalore Perfect Places for One Day Trip
2. Alwar
Considered as one of the best summer weekend getaways from Jaipur, you can admire the Mughal architecture, ancient forts, and ruins in Alwar. You can also enjoy boating in the sparkling lake. If you are traveling around November or December, you can even be a part of the Matsya Festival.
Distance:- Jaipur To Alwar – 138 km
3. Ajmer
The place has divinity and charm flowing in the air. The main attractions of this place are the marvelous Dargah Sharif of Moinuddin Chishti, Taragarh Fort, Ana Sagar Lake, and Magazine Museum.
Distance:- Jaipur To Ajmer – 153 km
Must Read: Summer vacation destinations near Mysore – Tourist places around Mysore
4. Sariska
Once you are in Sariska, you can opt for a jeep safari to spot Royal Bengal tigers, leopards, jackals, striped hyenas, deers, monkeys, and some endangered species of birds. To spot tigers, the best time to visit here would be October to June.
Distance:-  Jaipur To Sariska National Park (Alwar) – 138 km
5. Ranthambore
One of the largest national parks in northern India, Ranthambore National Park, will offer you safari rides, through which you can easily spot tigers here. You can also visit Rantahmbore Fort, which was built in the 10th century.
Distance:-  Jaipur To Rantahmbore – 191 km
Must Read: 8 Wonderful Summer Vacation Destinations Around Nagpur
6. Mandawa
If the haveli and archway fascinate you, then you must visit Mandawa. The intricate designs and architecture of the Mandawa can exhibit the regality of the Shekhawati dynasty. The Open Art Gallery is one of the major attractions of this town.
Distance:-  Jaipur To Mandawa – 168
7. Nawalgarh
This destination is located quite near to Mandawa. What makes Nawalgarh different from other places is that the palaces built here were by the Marwaris to show off their wealth that they earned while trading to the distant lands.
Distance:- Jaipur To Nawalgarh – 141 km
Must Read: Summer Vacation Destinations near Ahmedabad You Must Explore
8. Pushkar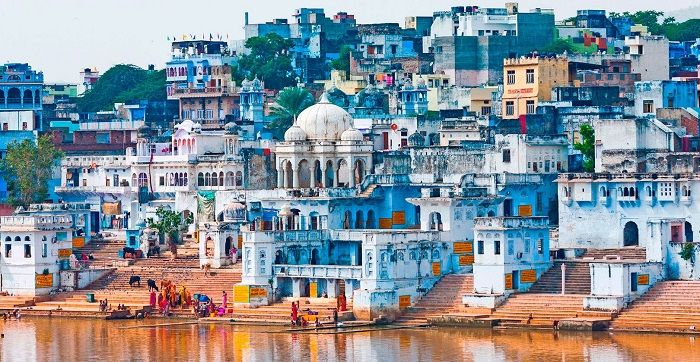 People from Jaipur and Delhi often visit this place, especially during the famous Pushkar Mela (Pushkar Fair), which is a cattle fair held in the month of November, every year. The lake in Pushkar is considered to be holy; thus, you can take a dip in its water. The market in this town is absolutely lively and perfect to buy souvenirs from.
Distance:- Jaipur To Pushkar – 161 km
9. Chittorgarh
The place has witnessed many battles. Spread over 700 acres on the top of a mountain, this fort is a must see if you are in Rajasthan. You can visit the temple of Tulja Bhavani and Rani Padmini Palace. It is said earlier 84 water-bodies were there in the fort; however, only 22 of them are active now.
Distance:- Jaipur To Chittorgarh – 305 km
Must Read: Top luxury Resorts near Delhi for – A Perfect Weekend Break
10. Kumbhalgarh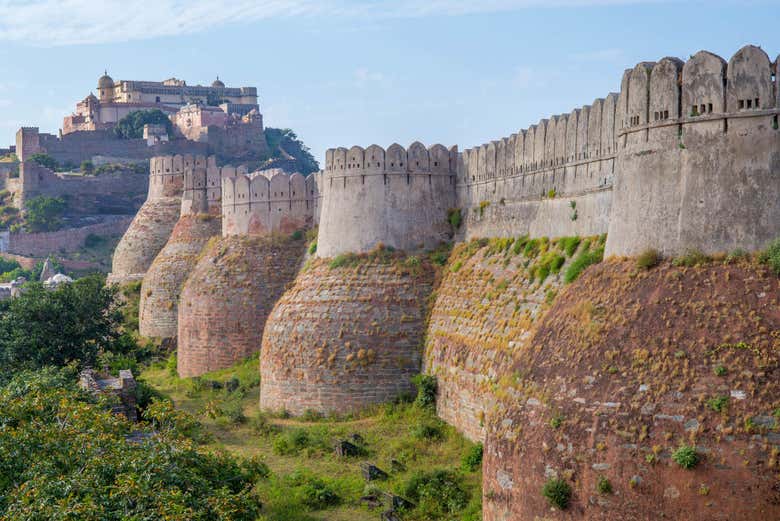 The town of Kumbhalgarh is filled with forts, palaces and monuments. Even the hotels here are majestically built. You can also go for lion safari in the Kumbhalgarh Wildlife Sanctuary.
Distance:- Jaipur To Kumbhalgarh – 345 km
11. Bikaner
You will find huge havelis in every nook of the golden city, Bikaner. You can admire the beauty of sand dune or visit the famous museum that has a model biplane, which is one of the two that were used by the British in Word War 1.
Distance:- Jaipur To Bikaner – 335 km
Must Read: Top Summer Vacation Destinations around Chennai 2020
12. Mount Abu
Mount Abu is one of the hill stations near Jaipur for summer vacation where you can go to take a break from the scorching Sun. You can try boating in the Nakki Lake here or go for trekking. You can also visit the Dilwara Jain Temple.
Distance:- Jaipur To Mount Abu – 495 km
13. Udaipur
From Lake Pichola (one among the largest manmade lakes in Rajasthan) to City Palace, everything is spectacular in this city; thus, is one of the best places to visit near Jaipur in summer. The Lake Palace, a heritage hotel built in the lake appears like a floating swan from a distance.
Distance:- Jaipur To Udaipur- 421 km
Must Read: Best Shopping Places in Nagpur – Street and Malls
Some of The Best Places To Visit in Jaipur
While we consider the places that can be visited from Jaipur in short break, we also have some amazing things to see in Jaipur this summer that will keep you pepped up. Let's check them here:
14. Amber Fort and Palace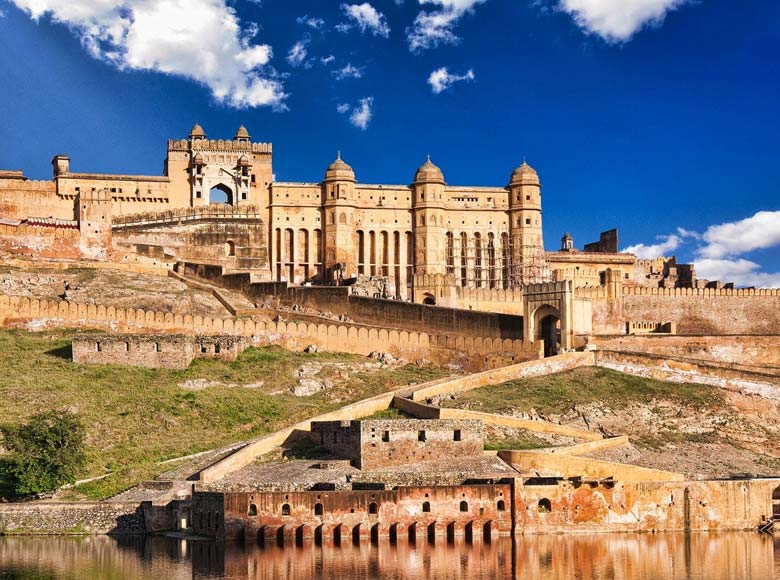 When you are in Jaipur, you must not miss visiting this place. With its rich history, this place will offer you so much to spend your time in a happy mood. You will go home with memories of the intricate wall paintings, frescos, and Sheesh Mahal.
15. Hawa Mahal
The five-storey extension has 953 small windows, and looks like a honeycomb. Hawa Mahal was designed in a way that no matter what the time or season of the year was, breeze always kept inside the palace cool.
Must Read: Best Shopping Places in Mumbai That Will Make You Want to Keep Coming Back!
16. Jal Mahal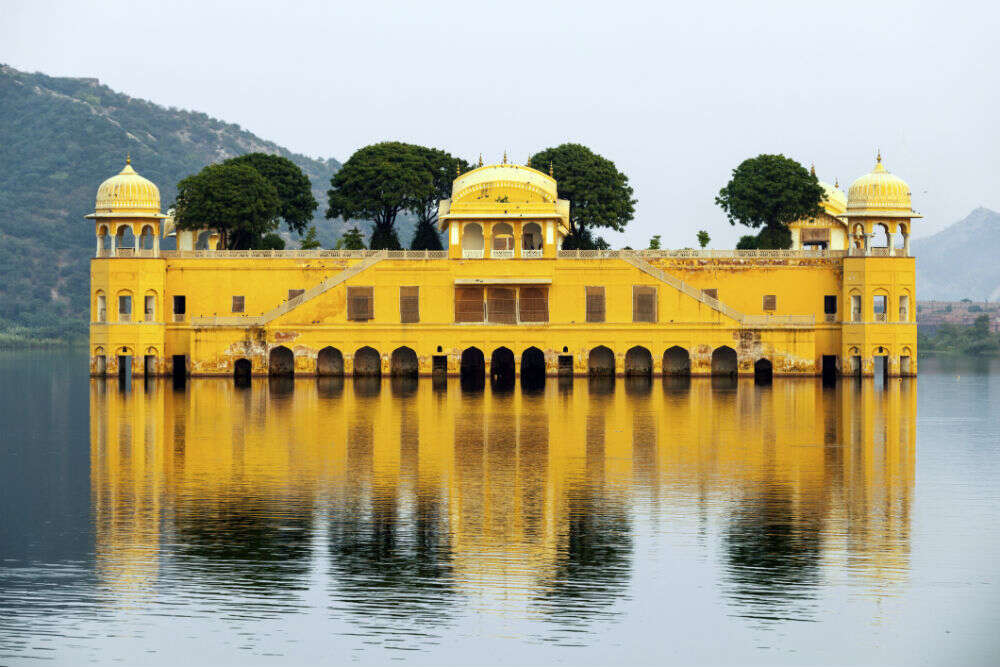 This palace is located in the middle of the Man Sagar Lake, and has a blend of both Rajput and Mughal styles of architecture. You have to take traditional boats to reach this palace.
17. Chokhi Dhani
Chokhi Dhani is one of the summer vacation destinations in Jaipur, which you must visit. It is an ethnic village resort where you can have the feeling of traditional Rajasthani village. The delectable Rajasthani food served here will not let you forget this place ever in your life.
Must Read: Best Nightout Places in Hyderabad- Making it a Night to Remember!
To appreciate the beauty of Jaipur and cover its nearby destinations, you would need at least a week or 10 days. Many of these destinations give us an opportunity to revisit the Rajputana traditions engraved in the pages of history.